The modern world was born on a printing press. Once essential to communication, the 500-year-old process is now in danger of being lost as its caretakers age. From self-proclaimed basement hoarders to the famed Hatch Show Print, Pressing On: The Letterpress Film explores the question: why has letterpress survived?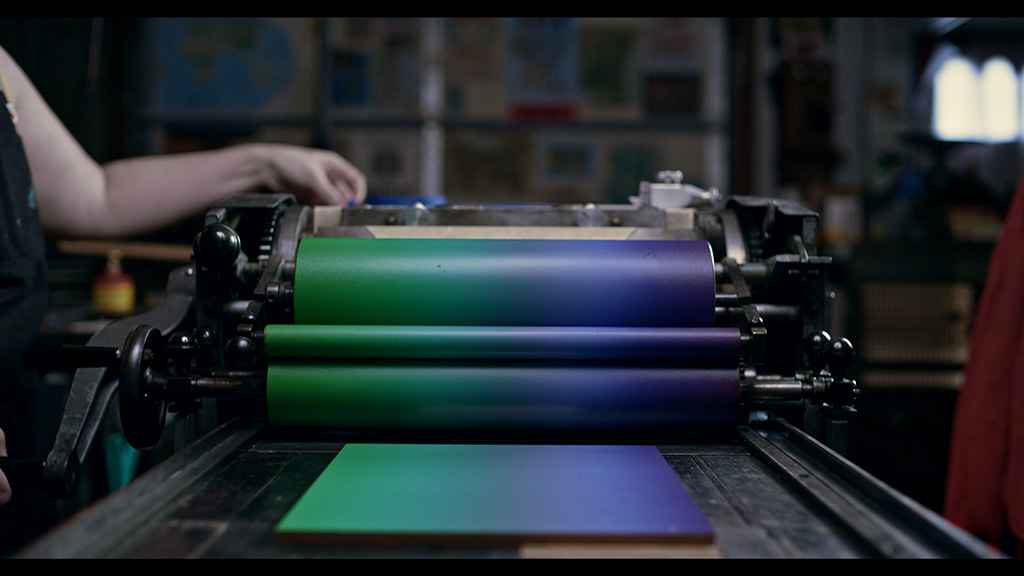 Worlds of each character emerge as unusual narratives—joyful, mournful, reflective and visionary—are punctuated with on-screen visual poetry, every shot meticulously composed. Captivating personalities blend with wood, metal and type as young printers strive to save this historic process in a film created for the designer, type nerd, historian and collector in us all.
"Pressing On" has been reviewed as beautifully capturing the art and technology of letterpress printing and preserving important voices in this craft for generations to come. This preservation is enhanced by the exquisite camerawork, lighting and music. Notable figures have lauded the film in the letterpress and design fields, such as Steven Heller, former art director at the New York Times, who stated, "'Pressing On' is an essential document not just about a revolutionary means of human interaction, but to savor the passion of its practitioners."
A public premiere of the film has been slated for this summer at the Country Music Hall of Fame & Museum, home of the historic Hatch Show Print. Pressing On: The Letterpress Film has already received over 200 requests for screenings at universities, design agencies, film festivals and other events. Major companies such as Google, Facebook, and Adobe have expressed interest in screening the film.
The film is a joint collaboration between Erin Beckloff and Andrew P. Quinn, co-directors, Kevin Grazioli, producer, and Joe Vella, director of photography. Bayonet Media, an Indianapolis-based video production company, is producing the project. Beckloff, now a tenured track assistant professor of Graphic Design at Miami University, developed an interest in letterpress after receiving a historic printing press as a wedding gift. Curious and inspired, in 2010 Beckloff began to record interviews with printers in the letterpress community. Her focus then shifted to capturing their stories on film, and in late 2013, she partnered with Quinn, Grazioli, and Vella at Bayonet Media to create the "Pressing On" documentary.
A fundraiser for the documentary was launched in the spring of 2014 on the crowd-sourced funding website Kickstarter, successfully raising $71,748 of its original $65,000 goal. In the time since, the team has traveled across the country to interview letterpress printers, designers and print shop owners, ranging from type collectors and mom-and-pop businesses to the iconic Hatch Show Print and Hamilton Wood Type & Printing Museum.
Throughout the project during the filming, editing and post-production processes, the team has been actively connected to it's audience through social media quickly gaining international attention and an increasing number of followers interested in the project.
For more information on "Pressing On: The Letterpress Film," including details of its premiere, visit the official website, or contact Kevin Grazioli at [email protected]
About Bayonet Media
Bayonet Media was founded in 2012 after having completed work on several commercial projects and documentary films. Bayonet collaborates with national and regional clients often pairing with marketing and branding agencies in creating anything from television commercials to web content, television series, and feature documentaries. The team at Bayonet has earned over 17 Emmy awards for their work. Previous and current clients include GE Digital, HBO, Stanley Black and Decker, Bass Pro Shops, PBS, Walmart, Fox Sports, Bryant, and Indiana University. www.bayonetmedia.com
About Erin Beckloff
Erin Beckloff is the producer, co-director, and writer of "Pressing On: The Letterpress Film." She is an assistant professor of Graphic Design at Miami University in Oxford, Ohio, where she revitalized the letterpress program. She has a B.F.A. from Miami University and M.F.A. from Vermont College of Fine Arts in Graphic Design. When she isn't teaching or learning, she runs Inky Winke Press, where she uses handset type and her collection of presses to make marketing materials, posters, cards, and invitations for hobby and limited clientele.