Salman Rushdie once wrote, "A book is a version of the world. If you do not like it, ignore it or offer your own version in return." As the VCFA MFA in Graphic Design Fall Residency is just around the corner, we thought it would be great to put together a reading list of books that the faculty have devoured over the past year.
These write-ups are a reflection of what we've been reading over the past year in all of our corners of this world ― from Rhode Island to Mexico, from Los Angeles to Tokyo and beyond. These books have helped shape our experience of the world and may in large part shape our upcoming time in Vermont.
Nikki Juen
The Witch Has a System
– Text by Trinie Dalton, Illustrations by Lennard Kok
I would like to buy a copy of this pamphlet book for each room in my home. Dalton's time-bending poetic incantations and Kok's mono line weight illustrations captivate and inspire.
Black Transparency The Right to Know in the Age of Mass Surveillance
– Metahaven
Modern power is examined through networks, intersections, and pop culture. A combination of zine and essay, this book examines black transparency and radical information democracy.
A Beautiful Question
– Frank Wilczek
Part examination of particle physics, part rumination on aesthetics, this volume examines a human experience and a search for truth.
I Love Dick
– Chris Kraus
In her book Kraus draws an image of feminism that examines how heteronormative relationships exist in complicit relationships with repression and subjugation… including, what to do about it. An adaptation of Kraus' book is already a pilot on Amazon directed by Jill Soloway of 'Transparent' acclaim.
The Argonauts
– Maggie Nelson
The always brilliant Maggie Nelson's gender-bending memoir will have you thinking and feeling about the definitions of family and sexuality and gender. And then have you wondering about going beyond the binaries.
Beauty (Whitechapel: Documents of Contemporary Art)
– Dave Beech (ed.)
The Documents of Contemporary Art by Whitechapel Gallery holds true to its consistent reliability in this anthology regarding: beauty and aesthetics. Over 25 artists and theorist are represented in one volume and each entry offers more than a few additional resources, should you wish to dig deeper.
Lorena Howard-Sheridan
The Principles of Uncertainty
– Maira Kalman
A diary-like collection of illustrations that become quotations for a text–ultimately a children's book for adults.
False Flat: Why Dutch Design is so good
Aaron Betsky with Adam Eeuwens
– A compelling case for how the specific features of Dutch culture — land, landscape, economy, idiosyncrasy, demographics — configure and articulate a proliferous design practice.
Art & Physics: Parallel Visions in Space, Time, and Light
– Leonard Shlain
Peek into the minds of trascendental scientists as they gained insight to further develop our collective knowledge… but not before the Artists that, through abstraction, representation, and by challenging perceptual paradigms, heralded the discoveries of the scientific world.
While You're reading
– Gerard Unger
Bridging the world of readers with that of type professionals, this publication takes a look into cultural reading habits that we take for granted, while presenting the reasonable causes of legibility and readability that typographers and typeface designers regularly consider.
The Upanisads
Pearls of wisdom which are a collection of texts that contain some of the central philosophical concepts of Hinduism.
Ian Lynam
Censorship Now!!!
– Ian Svenonius
Part-incendiary criticism, part-gallows humor, and part-cultural observation, this excellent collection of 16 essays examines exactly what the problems with contemporary society are—notably that hoarders are cultural heroes and that IKEA and Apple are poised to ruin our collective romantic experience.
On Loos, Ornament and Crime
– Juan José Lahuerta
Further investigation into Adolf Loos' essay "Ornament and Crime" and surrounding texts by the Austrian architect and critic, linking xenophobic tendencies of the early Modern period to pseudo-science. Copiously illustrated with some of the most eclectic imagery I've seen in a design-oriented book.

Selfish, Shallow, and Self-Absorbed: Sixteen Writers on the Decision NOT to Have Kids
– Meghan Daum (editor)
Something we talk about a lot at VCFA is "designing your life". This book takes a hard look at conceptions of the fertility crisis and "having it all". It is occasionally dark, full of levity, and a great read for folks with kids, folks without kids, and especially for folks who are considering having children.
The Visual Event: An Education in Appearances
– Oliver Klimpel (editor)
An exploration of a situational approach to graphic design which focuses on aspects of design other than ephemera and physical outcomes/artefacts. This book puts the "public" into "publication".
The Future of Nostalgia
– Svetlana Boym
Both a memoir and an analytical text that explores the meaning of nostalgia, primarily to emigrés. It will also take you all fall to read it.
Dave Peacock
New Perspectives in Typography
– Scott Williams and Henrik Kubel (eds.)
This nicely produced collection offers an exciting look at contemporary type-based design from Europe and the United States. Primarily visual, with extended captions and a selection of essays by Paul Shaw, Rick Poynor and other design writers.
Graphic Design: History in the Writing
– Catherine de Smet and Sara De Bondt (eds.)
From the independent publisher Occasional Papers, a smartly curated and beautifully designed anthology of important texts related to graphic design history. Includes writing from Andrew Blauvelt, Wen Huei Chou, Denise Gonzales Crisp, Johanna Drucker, Steven Heller, Ellen Lupton, Victor Margolin, Philip Meggs, and more.
New Mythologies in Design and Culture: Reading Signs and Symbols in the Visual Landscape
– Rebecca Houze
From the golden arches of McDonald's, to the latest Nike athletic shoe, to the idea of "red" and "blue" states, Houze examines the layers of meaning embedded in contemporary visual culture.
The Perpetual Guest
– by Barry Schwabsky
This collection of essays by Barry Schwabsky, art critic for the Nation, examines the contemporary art world with a keen eye and a writing style that is accessible but never dumbed-down.
Matthew Monk
Black Mountain: an Interdisciplinary Experiment, 1933-1957
– Eugen Blume (ed.)
By now most of us are familiar with the recent Black Mountain College exhibition at the ICA in Boston, Look Before You Leap, and its extraordinary catalogue. This book, published concurrent with an exhibition at the Nationalgalerie Berlin in 2015, serves as an excellent in-depth supplement to the ICA's catalogue, including substantial texts and a wealth of primary source materials from the BMC archives.
At the Existentialist Café: Freedom, Being, and Apricot Cocktails with Jean-Paul Sartre, Simone de Beauvoir, Albert Camus, Martin Heidegger, Maurice Merleau-Ponty and Others
– Sarah Bakewell
This extremely readable book provides insight into the philosophers, artists, writers and thinkers who developed what we know as existentialism, plus fascinating information about the thinkers who influenced them. Covering phenomenology, existentialism and some pragmatism, it presents both a crash course in these schools of thought and offers enjoyable bios of its main figures. I finished this book with many additions to my reading list.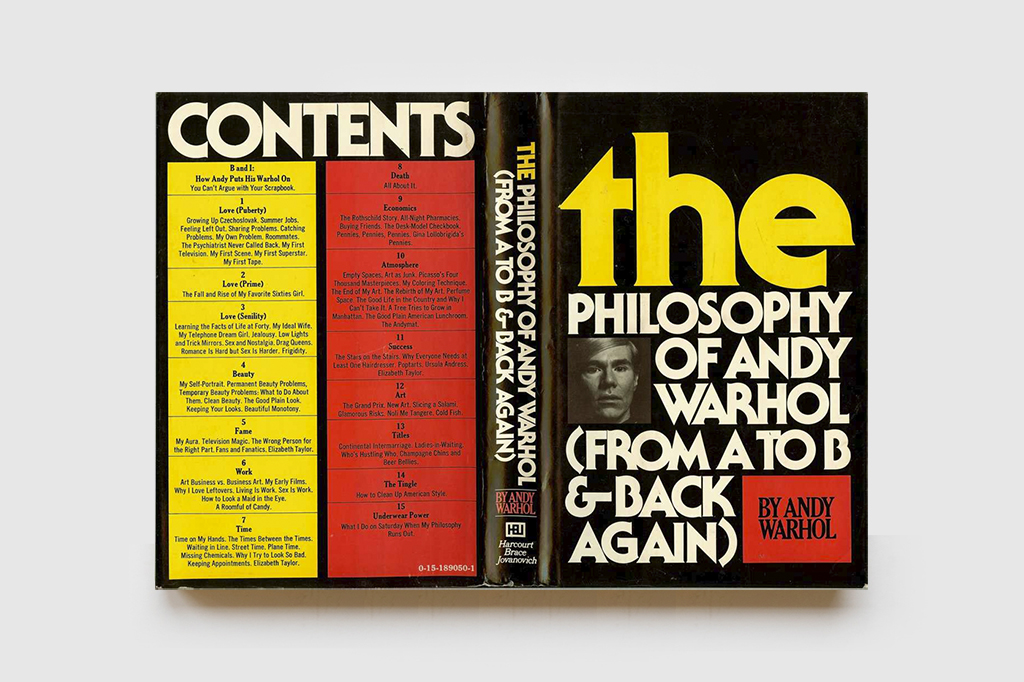 The Philosophy of Andy Warhol: From A to B and Back Again
– Andy Warhol
Always irreverent, funny, insightful, and utterly prescient, Warhol never fails to entertain while making us think. In this book he riffs on Love, Fame, Death, Beauty, and "The Tingle." I ran across this book in a used bookstore, took it home and devoured it. My copy from 1975 has a smashing typographic cover by Herb Lublin.
Conversations with Meredith Monk
– Bonnie Marranca
An in-depth discussion with this under-appreciated yet brilliant experimental American performer, composer, director, filmmaker and choreographer. This book was given to me recently by VCFA GD alum Sandy Graff, with whom I share a love of this important artist.
N. Silas Munro
An Eames Anthology
– Charles Eames, Ray Eames, and Daniel Ostroff, (Editor)
Last spring, before moving back to LA I had the chance to take an interior tour of the Eames Home and Foundation with my partner, Bill. Before getting there, I dove into this rich body of texts spanning the wildly prolific lives and practices of Ray and Charles Eames. Ostrroff does a deft editing job to include both well known and never before seen texts supplemented by well curated images.The transcript to the speech, Education as a Found Object is worth the cost of the book alone, with the Eames forecasting MOOCs, Low-Residency Programs and other self-study-based educational futures decades before they showed up.
Queer Space: Architecture and Same-Sex Desire
– Aaron Betsky
In the wake of the violent massacre this summer of my queer sisters and brothers at Pulse in Orlando, I felt compelled to rediscover the critical value of queer spaces and Betsky doesn't disappoint. What began as a seminar in one of his SciArc classrooms in the mid-1990s charts Betsky's experience with queer spaces as an attendee at Studio 54 in New York to his practice as an architect and one of the world's foremost architectural critics.
Thumbelina: The Culture and Technology of Millennials
– Michel Serres (Author), Daniel W. Smith (Translation)
There is discussion and writing ad naseum about Millennials and their impact on everything from the work force, family life, and cultural at large (though which design permeates all). However, forego any more Gizmodo listicles, Harvard Business Review articles, or New York Times top selling books on this subject and read this instead. Mr. Serres paints vivid, positive and pragmatic metaphors of the Millennial ethos that are indicative of our broader zeitgeist.